Step 2: Track your spending.
Previously, we have planned our budget for every category. Let's sit back a for a while and congratulates our self, because by now, we have understood our financial situation, where things are going as well as knowing our priorities.
Now, we can plan all the way, but it all comes down to execution, and this is where things get harder, it requires self-discipline, endurance, and strong reasoning. We now have to follow our budget and spend wisely.
EP encourage entering your spending manually, while we certainly looking at ways to automate entering your transaction, we also want you to be aware of what you are buying. At the same time, we don't want to feel entering transaction like chores, so we design a lot of things in EP with that mindset, including when entering your transaction.
Entering your transaction.
Okay, so from now on you'll be entering all your transactions in EP. Let's take a look at the transaction section now.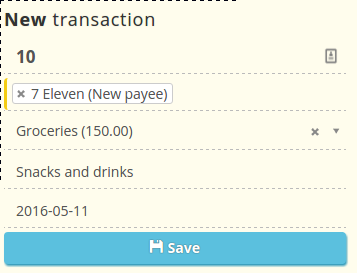 As you might've known, this is where you enter your transaction, be it income or spending. In this example, we have 7 Eleven as the new Payee, and we set the category to groceries. You might have notice that the category shows you 150 left for Groceries. That's right, this way you'll always be aware how much money you have for each category. You can also check it in the budget section.
Remember, EP is all about simplicity. Since you'll have to track your transactions frequently, we try to make things work as simple as possible, you can utilise your common keyboard shortcuts to move between the fields (the Tab key), you can also save with Shift/Ctrl+Enter. But even more, if you don't want to track by payee, you can leave that out.
So what's the point of tracking by payee, you might ask? This is very useful if you want to study your spending history in the future. Say you want to know how much you've spent on groceries, and to which payee are you spending from. You can do all this by tracking them by payee. Even more, you can add tags and account to make them even more detailed.
Uncleared and starred transactions
When you click the tag field, you might be wondering what the 'Uncleared' and 'Starred' tag do. Well, for 'Uncleared' it probably a lot simpler, it's basically will mark your transaction as uncleared and EP will help you keep track of them by showing them in your recent transaction list. As for Starred, imagine you just bought something that is in someways, notable. It could be a gift, or a big purchase, or maybe something you never thought of buying within your budget (a.k.a you're overspending, let's talk about that in the next chapter). Starred transactions give you the ability to 'bookmark' these transactions so you can keep track of what's happening during the month.
---
Previous: Budget for everything Next: Adjust as you go along