Topics and features
Getting started
Tracking transactions
Managing categories
Balance adjustment
Managing reimbursement
Scheduled transactions
Multiple Books
Budgeting for next month
Budgeting
Budget notes
Budget amount history
Off-budget transactions / account
Overspending calculation
Accounts
Payees
Tags
Tips and Tricks
Topic - Scheduled transactions
Budgeting a scheduled transaction
When you have a scheduled or recurring transactions, it simply means that you know you have to spend some amount of money to a category of those transactions. So it's necessary to know when they are coming and how much amount they are going to take.
EP helps you to get the idea of the scheduled transactions when you are budgeting. If you look at the budget section, EP will mark the categories if they have scheduled transactions.

Additionally, if you click on the category, as you usually do if you want to set the budget amount, you can see the list of scheduled transaction for the category and the current month.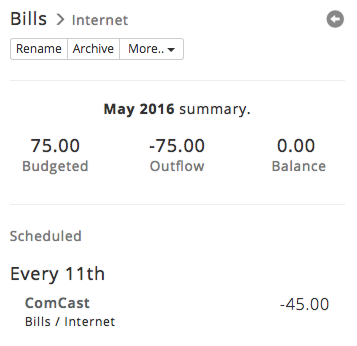 This way, you would know that in this month you probably have to budget some amount for those scheduled transactions.
---